Oh hoho! This may be a somewhat prematurely festive post for the ol' blogosphere but I could not resist the chance to photograph my new ponte roma creation this morning in the cold and crisp autumnal sunshine to share with you all.
I picked out this gorgeous bright red shade from the racks at my favourite fabric shop Fabricland weeks ago knowing I wanted to create a cosy dress which could be dressed up or down depending on the occasion.
I decided I wanted a dress with a cowl neck and went for the bargain-icious Butterick See & Sew B5870 which came in at £3.25. I went for bodice A with sleeves and skirt B.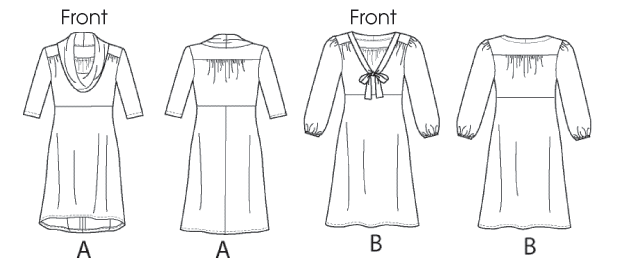 If I'm honest I did not have massively high hopes for this pattern but bought it hoping it would make a good basic starting point to be adapted and improved upon. How wrong I was! I made the UK size 8 and found the fit to be really comfortable and flattering, even the length did not have to be shortened by much, shock horror that makes a change!
The red ponte roma was a dream to sew with as usual, everything fitted together perfectly. I have made a couple of dresses from this material in various colours for this winter and will share some of them with you as soon as I get the chance. I have been choosing darker colours of late for a warm, autumn winter look as the temperature has had a sudden (and welcome) drop. I was also particularly pleased with the way the dress is gathered onto the yoke and found this to be surprisingly flattering.
The cowl neck on this pattern just feels so ridiculously cosy, particularly in such a warming shade of red. I can't wait to wear this with cosy black leather boots and a woollen coat, or maybe even red ballet pumps and a black blazer. I do feel this style will be easy to dress up or down, indeed I am most tempted to make one in black for the cold weather. This is always the time of year I spent the most money on my wardrobe as I adore autumn winter styles (and have a shameless coat addiction!) and also detest feeling cold and so my solution to this is would appear is to sew as many cosy, long sleeved dresses as possible in a variety of styles and invest in thermal vests to wear underneath and pretty patterned knitwear to wear over the top.
That's all for now, I hope you like my new festive feel creation! Thanks for reading and happy sewing x
Front view, another glam front door selfie...
Back view, hard to see the gathers
A better view of the back of the cosy cowl collar
What's that in the distance...?
Bright front
Playing with my camera settings, I <3 red
Back gathers detailing